← Back
PGCPS Hosts Virginia School Board Association's Regional Spring Networking Forum at Middle Road Elementary
March 10, 2023
Article and Photography by Michael Campbell
Prince George County Public Schools hosted the Virginia School Boards Association's networking forum for the organization's Southside region on Thursday, March 9, 2023, bringing over a dozen localities along and surrounding the Interstate 95 corridor to the county for an evening of face-to-face relationship building and collaboration.
Hosted by the association's nine regions annually, the VSBA's regional networking meetings allow the member regions' school board members, superintendents, students, and guests to strengthen existing relationships and foster new ones.
The VSBA's Southside Region, comprising Amelia, Brunswick, Chesterfield, Cumberland, Dinwiddie, Goochland, Greensville, Hanover, Henrico, New Kent, Nottoway, Powhatan, and Prince George Counties, and the Cities of Colonial Heights, Emporia, Hopewell, Petersburg, and Richmond, spent the evening at Middle Road Elementary School, PGCPS' newly opened 98,000-square foot, 850-student elementary campus in the county's northwestern end, and a short drive from the Fort Lee military installation. The school opened for students on February 21, 2023, making the VSBA's regional forum the first large event hosted at the campus since its post-Presidents' Day opening and earlier ribbon-cutting ceremony on February 1, 2023.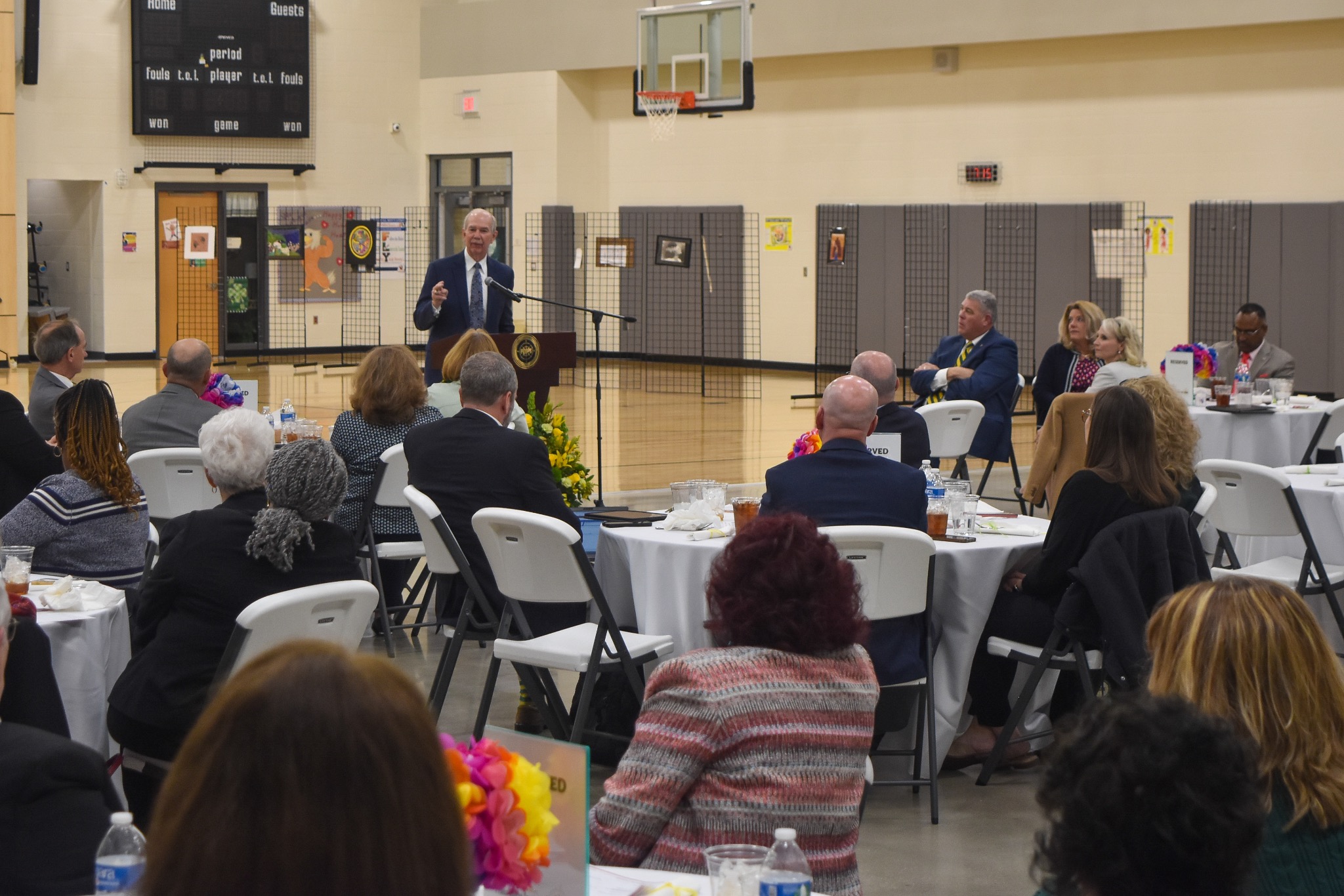 While serving as a networking event for over 100 people across 19 school divisions, the regional meeting also hosts an art contest showcasing and celebrating students' talents at the elementary and secondary levels from each region's member districts. On display in the school's gymnasium, visually striking pieces were exhibited, spanning a range of mediums and materials.
During the formal program, VSBA Executive Director Gina Patterson announced the following winning pieces from this year's regional showcase. David A. Harrison Elementary School student Amani Oronoz earned top honors from the judges in the contest's elementary category. Oronoz's piece, along with each winning work, will be displayed on a rotating basis in the Virginia School Boards Association's office in Charlottesville throughout 2023.
First Place, Elementary School
Amani Oronoz
David A. Harrison Elementary School, Prince George County Public Schools
First Place, Middle School
Emily Thomas
Powhatan Middle School, Powhatan County Public Schools
First Place, High School
Hollie Raum
Patrick Henry High School, Hanover County Schools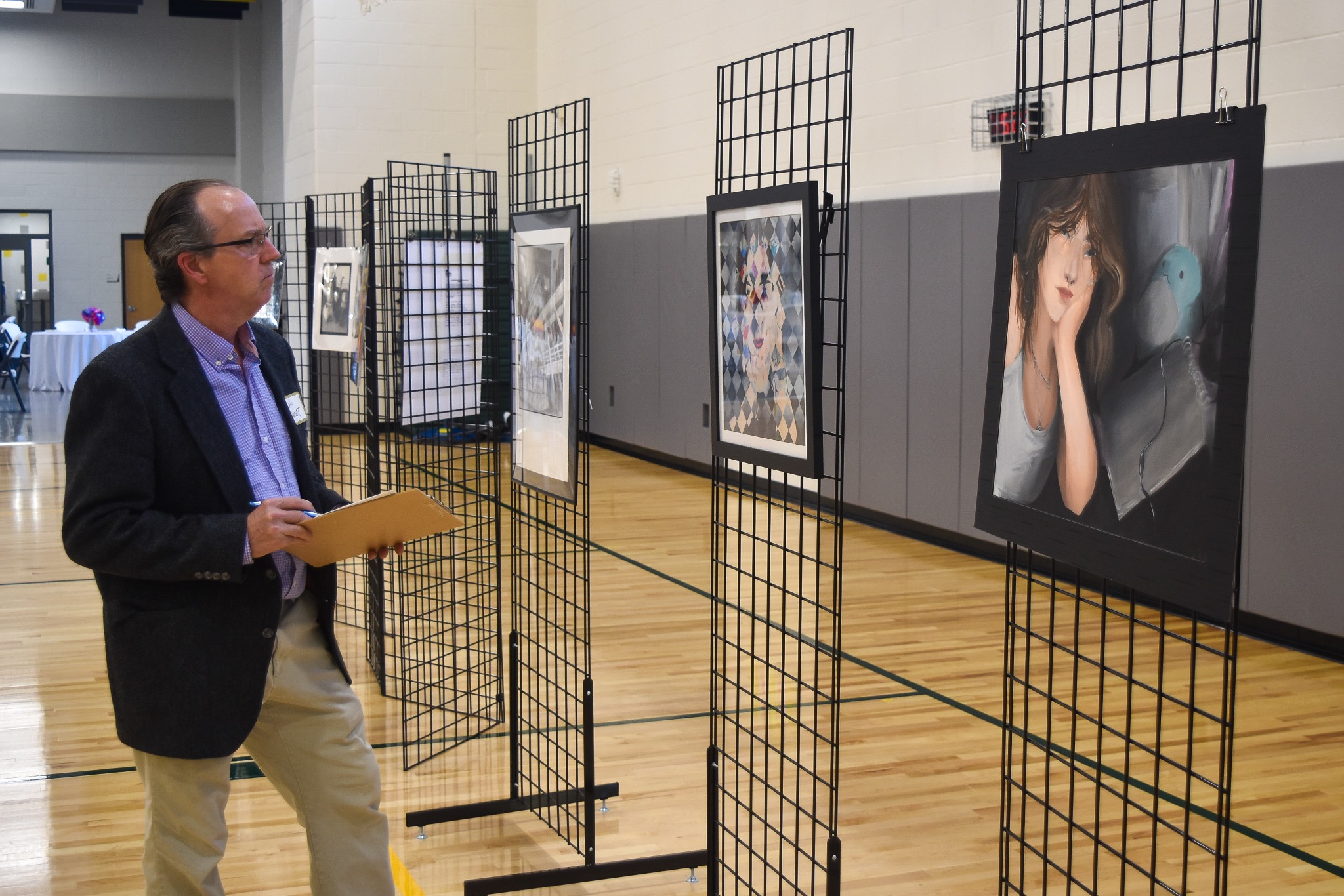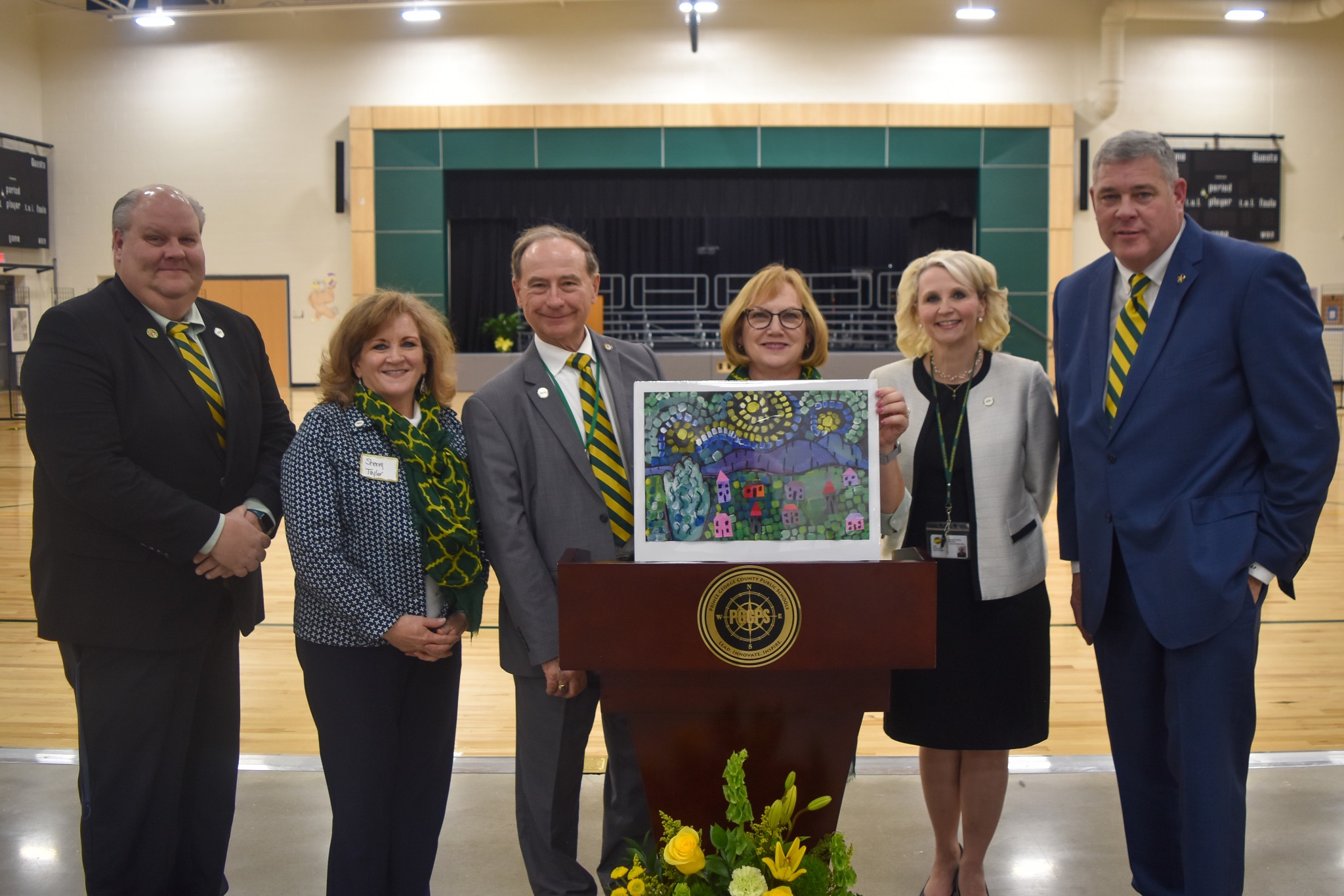 The Virginia School Boards Association is a voluntary, nonpartisan organization of Virginia school boards promoting excellence in public education through advocacy, training, and services. The organization seeks to maximize student achievement by taking a leadership role in education reform, effectively advocating for the Commonwealth's public schools and children across all levels of government and the public, and increasing the active participation of member boards and stakeholders in all VSBA services and activities.
For more information about the Virginia School Boards Association, visit their website at http://vsba.org.
Coinciding with the art showcase, forum attendees explored Middle Road Elementary's two-story campus during the hour-long networking session. Guided by PGCPS representatives, including Prince George County School Board member and VSBA Southside Region Chairman Christopher A. Johnson, neighboring elected officials and leaders were given detailed walkthroughs of the building, highlighting the school's innovative design, focused on adaptable and transformative learning spaces, and state-of-the-art technology found across the building, including the school's makerspace and resource classrooms.
The social hour was bookended by the Prince George High School Chorus, who offered a musical selection and a transition into the VSBA's formal program and dinner. Members of Prince George High School's DECA organization offered their signature hospitality to the VSBA's guests as servers for the event as attendees enjoyed remarks from Dr. Steven R. Staples, former Virginia Superintendent of Public Instruction and the event's featured speaker. Staples' talk, titled "Keeping the Main Thing, The Main Thing," sought to inspire board members and superintendents through stories from his lived experiences paired with wisdom imparted on him by others.

"Prince George County Public Schools is proud to welcome the Virginia School Boards Association and our neighbors who make up the association's Southside Region to Prince George County," Division Superintendent Dr. Lisa Pennycuff said. "The regional networking forum is an important opportunity for PGCPS and the Prince George School Board to spend time with our colleagues in other communities discussing public education topics, while also highlighting the artistic talents of our region's students during this special art showcase."
"As advocates for public education and the children of our community, being able to come together to discuss our priorities and collaborate with one another is important, and the VSBA's regional networking forum helps us have those engaging conversations," VSBA Southside Region Chairman and Prince George School Board member Christopher A. Johnson said. "It's an honor for Prince George County to host this year's regional networking forum and showcase the great things happening in our community. We also congratulate our art contest entrants and winners for exhibiting incredible artistic skills for our panel of judges and event attendees. Thank you for all those who attended and for all those who contributed to planning and preparing for this uplifting event."