Prince George County Public Schools Receives Thousands of Bottles of Hand Sanitizer from Cintas First Aid and Safety
September 13, 2022
Prince George County Public Schools received a donation of thousands of bottles of hand sanitizer from national workplace uniform and safety supply provider Cintas Corporation during a special delivery to the district's central warehouse Tuesday morning.
Located in neighboring Chester, Virginia, Cintas First Aid and Safety's general manager Rachel Jones, warehouse manager Jason Kearney, and management trainee Erin Klich delivered the donated materials to the school division on Tuesday, September 13, 2022, which included approximately 4,800 4-ounce and several one-gallon bottles of hand sanitizer and several handheld forehead thermometers. These items will further bolster the district's stock of hand sanitizer and other resources used in our schools and auxiliary buildings as part of the division's efforts to reduce the spread of COVID-19 and other infectious diseases and keep our school community healthy.
This latest donation is Cintas' second to Prince George County Public Schools dating back to early last year. In March 2021, the company donated nearly 50 gallons of hand sanitizer to four schools, L.L. Beazley Elementary, South Elementary, William A. Walton Elementary, and Prince George High School. The donation represented the equivalent of approximately 760 8-ounce bottles of hand sanitizer available in stores.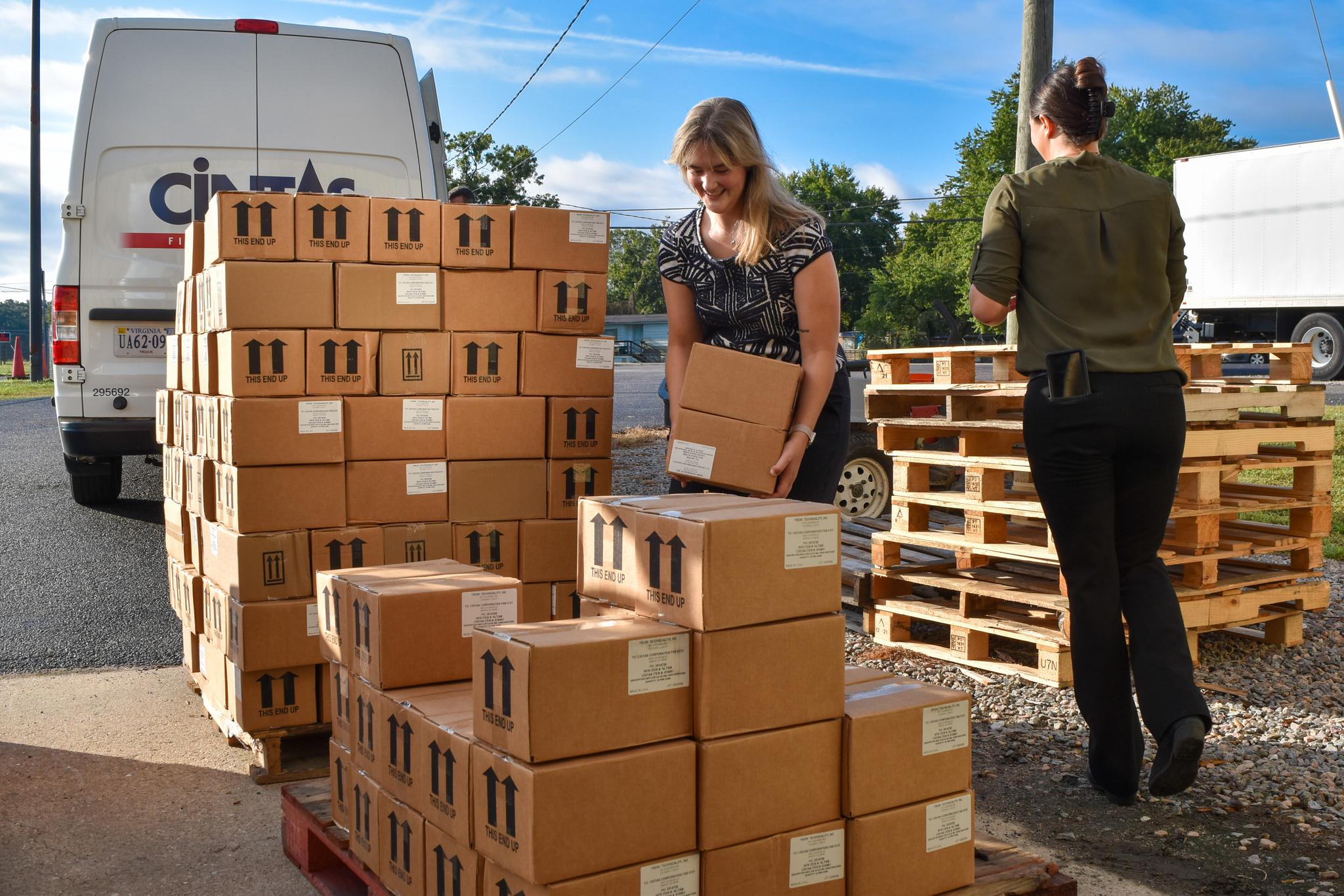 Helping coordinate both donations to Prince George County Public Schools was Cintas Management Trainee Justin Pines, possessing a special connection to the district as his aunt, Iris Talley, served as an educator at South Elementary School for more than 30 years before her retirement in 2022.
"We hope our donation will help keep the students and faculty at Prince George County Public Schools healthy throughout the school year," Cintas First Aid and Safety General Manager Rachel Jones said. "Cintas is glad we are able to support our local community with products that help lessen the spread of illnesses."
"We thank Cintas Corporation for their continuous and generous support of our school community and the children of Prince George County over the last several years," PGCPS Division Superintendent Dr. Lisa Pennycuff said. "Our division values partnerships like the one we share with Mr. Pines and Cintas, which highlights the important role our community serves in supporting our schools."
"Our division is appreciative of community partners like Cintas Corporation who help support our efforts to keep our school community healthy," PGCPS Chief Support Services Officer Patrick Barnes said. "This donation will allow us to continue stocking our schools and support buildings with sanitization and cleaning items throughout the school year."
To learn more about Cintas Corporation, visit their website at http://www.cintas.com/firstaidsafety/.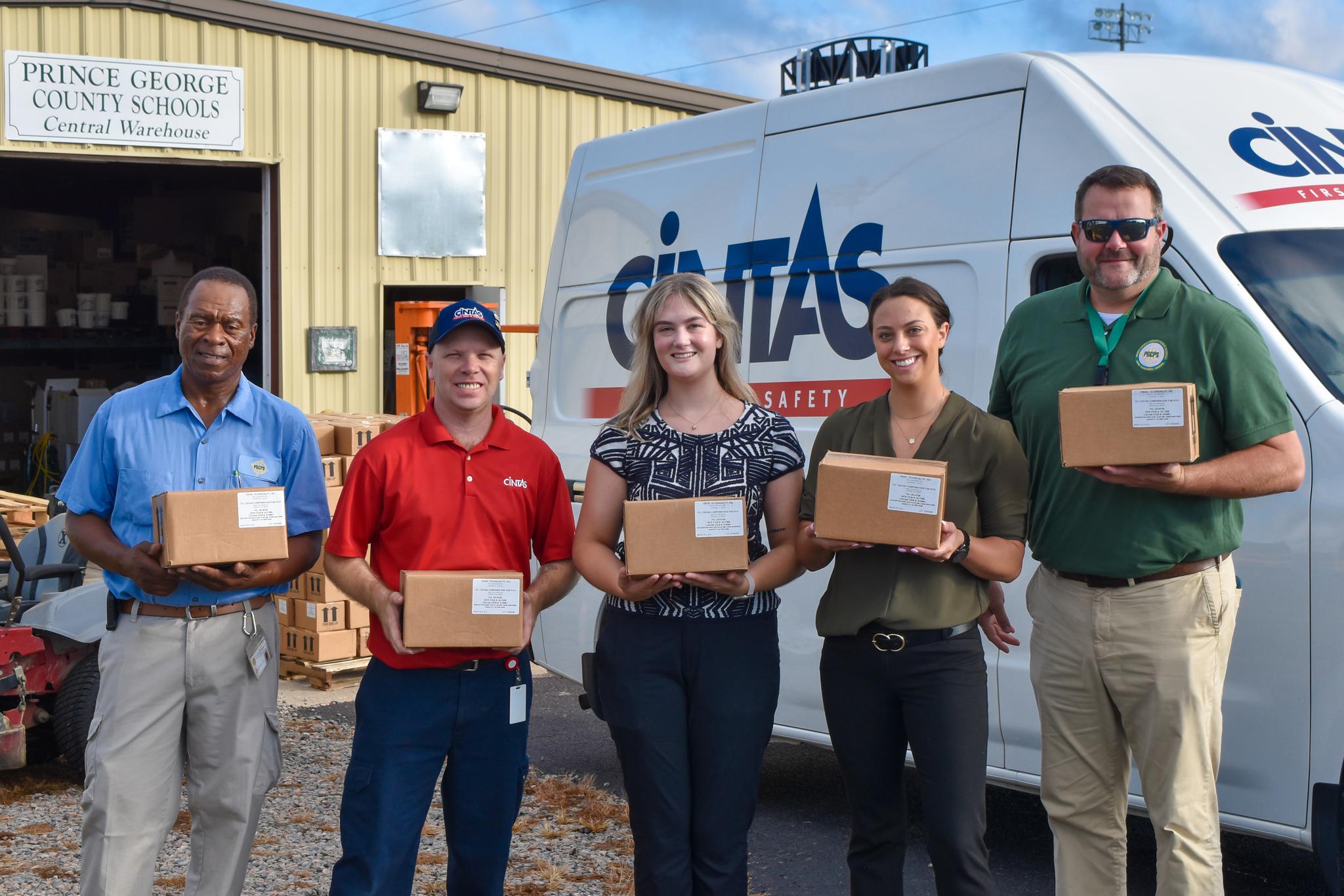 PGCPS Custodial Resources Coordinator Lin Turner (left) and PGCPS Chief Support Services Officer Patrick Barnes (right) join Cintas First Aid and Safety's Warehouse Manager Jason Kearney, Management Trainee Erin Klich, and General Manager Rachel Jones following the Chester, Virginia company's donation of over 4,800 bottles of hand sanitizer to the school division on Tuesday, Sept. 13, 2022. (PGCPS Photo)