Va. Dept. of Education Data Shows 91 Percent of PGCPS' Class of 2021 Graduated On Time
Recently released data from the Virginia Department of Education revealed Prince George County Public Schools' on-time graduation rate remained above 90 percent for a fifth consecutive year in 2021, with 91 percent of students who entered the ninth grade during the 2017-2018 School Year earning a diploma and graduating from high school within four years. 
On Sept. 30, State Superintendent for Public Instruction James Lane announced 93 percent of the 97,155 students in the commonwealth's Class of 2021 earned a Board of Education-approved diploma, compared to 92.3 percent of the 2020 cohort. The dropout rate for the Class of 2021 fell slightly to 4.3 percent, compared to 5.1 percent for the previous graduating class. 
"In addition to congratulating our 2021 graduates for their perseverance under extraordinary and challenging circumstances, I want to thank the State Board of Education for the emergency guidance it approved last fall that allowed for greater flexibility in the awarding of verified credits toward graduation," State Superintendent Lane said. "The board's action — and the emergency waivers I issued last year — ensured that students were not prevented from graduating by pandemic-related factors beyond their control." 
Coinciding with the release of statewide graduation data was the dissemination of division-level on-time graduation rates and other related metrics. According to the Virginia Department of Education, 91.06 percent of Prince George County Public Schools' Class of 2021 received a Board of Education-approved diploma, marking the fifth consecutive year Prince George County Public School's on-time graduation rate is at or above 90 percent.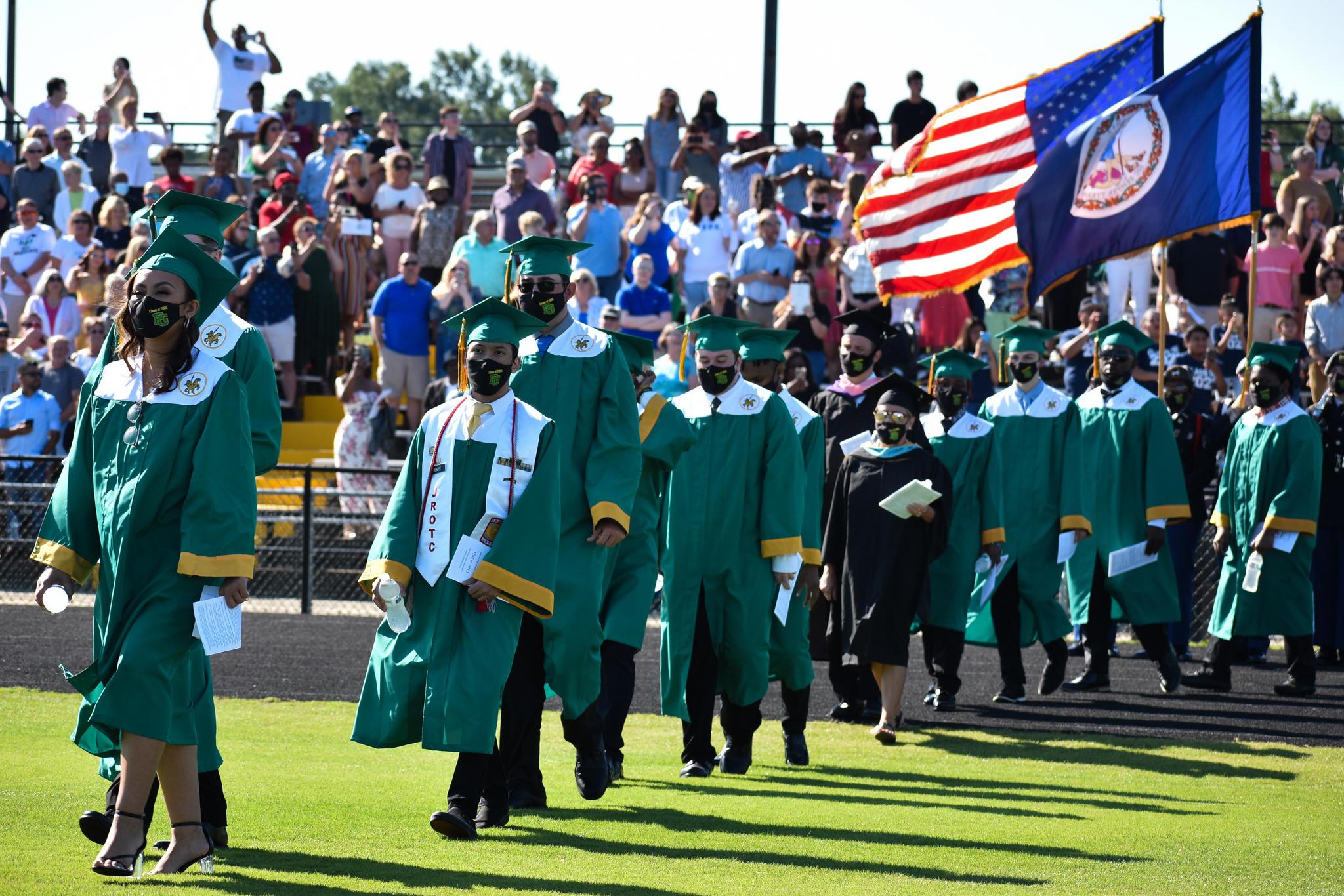 Additionally, the dropout rate among PGCPS' Class of 2021 was 4 percent, down from the 4.6 percent recorded among the previous graduating class. Since 2008, the division's dropout rate has steadily declined by over 13 percent based on VDOE data.
Of the Prince George County Public Schools students who entered high school as first-time ninth graders in 2017:
55 percent earned Standard diplomas;
44 percent earned Advanced Studies diplomas; and
4 percent were non-completers.
Data regarding graduation and dropout rates for specific student racial, ethnic, and socioeconomic groups across the commonwealth and individual school divisions was released by the Virginia Department of Education on Sept. 30. These metrics pertaining to Prince George County Public Schools' Class of 2021 are as follows:
90.55 percent of Black students graduated, and 3.94 percent dropped out;
87.88 percent of economically disadvantaged students graduated, and 4.85 percent dropped out;
97.73 percent of Hispanic students graduated;
86 percent of students with disabilities graduated, and 10 percent dropped out;
79.17 percent of students with multiple races graduated, and 8.33 percent dropped out; and
90.65 percent of white students graduated, and 4.67 percent dropped out.
Since 2011, high schools have had to meet an annual benchmark for graduation and completion to earn state accreditation. Schools receive full credit for students who earn diplomas and partial credit for students who remain enrolled, earn GEDs, or otherwise complete high school. In addition, revisions to the accreditation standards adopted by the state Board of Education in 2017 include benchmarks for reducing dropout rates and chronic absenteeism.
"The 2020-2021 School Year presented all of our students, including the division's Class of 2021 graduates, with challenges they were able to successfully overcome as they adapted to a hybrid, in-person and virtual, learning continuum throughout the year," PGCPS Division Superintendent Dr. Lisa Pennycuff said. "The resiliency of our students and the dedicated efforts of our educators helped PGCPS' students be successful throughout their final year of secondary education. Now, these students are prepared for the next step of their life's journey, whether they choose to continue their education, serve in our armed forces, or enter the workforce. As we look back at this achievement data, our district is very proud of the positive outcomes we continue to see from our students and remains committed to further progress in the years to come."
High school cohort reports for schools, school divisions, and the commonwealthare available for viewing and downloading on the VDOE website and on School Quality Profile reports under the "College and Career Readiness" tab.